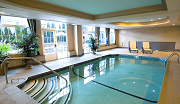 7 Main Street Middletown, CT, 06457 Phone: 860-854-6300 Toll-Free: 800-637-9851
From castle explorations to water play, the Inn sends your family out for fun
Your family will feel right at home when you spend your vacation time at the Inn at Middletown. Amenities in our rooms include 37-inch flat screen HDTVs with HBO, complimentary wireless Internet, coffee makers, hair dryers, and black-out drapes. Roll-away beds are available. Breakfast, lunch, and dinner are served at our on-site Tavern at the Armory restaurant, featuring classic American cuisine. Your kids will love our indoor heated swimming pool. And there's so much to do here. In winter months hit the slopes at Powder Ridge ski area. Head to Brownstone Exploration and Discovery Park for swimming, kayaking, and wakeboarding. Empower Leadership Adventure Center offers fully-guided zip line tours of the forest at treetop level.
Tuck in to an Airbnb lodging in Connecticut for fun at vineyards, restaurants, casinos
Airbnb almost could have been created for visitors to Connecticut, because this coastal state has so many intimate places with great things to do on a short visit from the New York area. A place of small farms and small towns, the western Litchfield region is likely to tuck Airbnb lodgings into farmhouses or private homes near classic New England greens. Come here for a charmed weekend of antique shopping and tastings at vineyards. Waterfront Connecticut offers city pleasures at New Haven, where lodging could be in a downtown high-rise and the days are filling with excellent museums and superior dining. Coastline drives toward historic Mystic Seaport bring you close to the exciting dazzle of the Foxwoods and Mohegan Sun casinos.