10 Great Things to Do in Fairfield Connecticut for every age and taste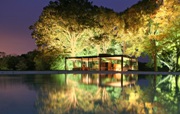 199 Elm Street New Canaan, CT, 06840 Phone: 203-594-9884
Architect Philip Johnson's eclectic country home
One man's extraordinary skills and whimsy led to the construction of this most unique house that's not a house. The Glass House is a space divided into 14 structures instead of walls dividing a single interior into rooms. Built over 37 years on 49 acres in New Canaan, architect Philip Johnson gave each structure a different function. The Pavilion in the Pond is for gatherings and views of the rustic landscape. The Brick House was where Johnson read and slept. The stucco studio served as workplace and library. Grainger, a warm weather retreat had both air conditioning and a television. Certified as a National Trust Historic Site, it serves as a museum to Johnson's work and architectural style. Open May 1 to November 30.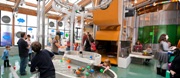 Matthews Park - 303 West Avenue Norwalk, CT, 06850 Phone: 203-899-0606
Stepping Stones Museum makes the whole world look fresh
At Stepping Stones Museum for Children in Norwalk, Conn., we create an environment that inspires lifelong learning. Our museum offers engaging and educational exhibits with indoor AND outdoor experiences that give children, families and educators twice the space to discover, learn, and grow. Our Energy Lab includes hands-on exhibits that teach how the sun, the wind, the force of water, and the burning of fossil fuels produce energy. Tot Town is an imaginative world shrunk down to toddler level. Our Build It! exhibit lets children explore architectural design and construction. We've got tools they can use to pretend to finish walls, paint with brushes and rollers, apply carpeting, and more. After a visit, youngsters will see their world in a whole different way.
With about 200 antiques dealers under one roof, the
Stratford Antique Center
on Honeyspot Road is a place where antiques buffs can become blissfully lost. The center is located off I-95 in
Stratford
and is locally known as the "big blue building." It houses 16,500 square feet of antiques and collectibles. Browsers will enjoy the numerous dealer floor spaces and display cases, making this a great shopping attraction for anyone looking for things to do on an afternoon or weekend. 203-378-7754.
The
Bruce Museum
at 1 Museum Drive in
Greenwich
offers expanded learning programs for families and kids age 4 to 10. These drop-in programs include Science Sundays, where kids and parents may explore simple science concepts through experiments and activities. Programs are from 1 to 3 p.m. and are included in the Museum admission fee. Bruce Moose Activity Packs are designed for the family that would like to explore the Museum's galleries on their own in a fun, hands-on way. 203-869-0376
Weir Farm National Historic Site
on Nod Hill Road in
Wilton
is one of two national historic sites that preserves and displays a place for the visual arts. (The other is the Saint-Gaudens National Historic Site in Cornish, New Hampshire.) From 1882 to 2005, Weir Farm was the home and workplace of three generations of painters, starting with J. Alden Weir. Visitors today can view the Weir home and studios, take guided walks of stone walls and painting trails, and enjoy the rotating art exhibits. The grounds are open year-round; hours at the Visitor Center vary seasonally. Phone: 203-761-9945
Fairfield and Greenwich Cheese Company
, with locations (at 2090 Post Road in
Fairfield
and at 154 East Putnam Avenue in
Cos Cob
) wants to help you know and love cheese (even more). You are invited to taste and shop, or course, and also to attend weeknight evening classes to learn about topics like goat cheese, wine and cheese pairings, beer and cheese pairings, cheeses of France. Presenters are sometimes stars of the New England cheesemaking world. It's a fun date night for cheese hounds! 203-292-8194 or 203-340-9227.
The
Audubon Center
at 613 Riversvile Road in
Greenwich
offers indoor and outdoor attractions and fun by people who are experts on nature and wildlife. The 295-acre sanctuary has miles of trails near a hardwood forest, fields, a lake, streams and ponds, stone walls, and homestead buildings. If the weather invites you indoors, the Kimberlin Nature Education Center building has Kiernan Hall Nature Art Gallery with its wildlife viewing window and honey bee hive exhibit, and a Nature Gift Store. 203-869-5272
Greenwich Avenue in
Greenwich
has been nicknamed after Rodeo Drive in Los Angeles because of its beauty, charm, and fabulous
shopping
, from daily products to upscale goods. On the Avenue (not counting the many shops just a block off-avenue) you'll find names like Lily Pulitzer, Club Monaco, Baccarat, Gabby, and Marmot. Spend a full day browsing and shopping; there are places to enjoy lunch or dinner on all sides.
Fairfield Museum and History Center
to explore the history of this community, through the lens of world wars to ordinary daily life. The museum offers exhibition galleries, a family education center, a theater overlooking the Town Green, and a museum shop. Exhibits have looked at baseball in America, golf, witchcraft in Connecticut, traditional crafts, the Pequot tribe, and the stories behind everyday objects. The museum's 1750 Ogden House has a Colonial-period garden and a bee keeping project. Open daily except major holidays. Phone: 203-259-1598
SoNo, the south of Norwalk district along South Main, South Water, and Washington streets in South Norwalk attracts visitors for its waterfront ambiance, nearness to the Maritime Aquarium at Norwalk, and – our point here – for the awesome
dining.
Especially along Washington Street, you can find a fabulous array to tastes: Greek, Japanese, Mexican, Irish, craft beer, steaks, seafood, chocolate, pizza – wow. Check out this website and pick a Friday or Saturday evening to treat your taste buds. Delightful!
The SportsCenter of Connecticut
on River Road in
Shelton
doesn't give a darn about the weather. This covered and weather-protected facility offers numerous activities such as a golf practice range, 18-hole miniature golf course, baseball and softball batting cages, laser tag arena, bowling, and the world's only double-decker ice arena. You like sports? Now, inclement weather doesn't need to slow you down and you will have plenty of things to do with friends and family. Phone: 203-929-6500.